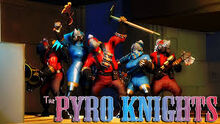 The poster Is going to be 30 in by 42 in landscape.
It needs:
Team Name
Team Logo
High School Name/Logo
Payload Science Objective
Figure of the Proposed Payload
Number of CEA Visitors and a histogram of the age demographics of those visitors
CEA(s) Description
CEA(s) Pictures
The UAHuntsville Logo
This poster will be due on April 25, 2014
Team Name
PyroKnights
Team Logo

School Name/Logo
Sparkman High School
Payload Science Objective

Discuss your science objective here. Provide a rationale as to why this science objective is important.

The Lancer Lander will be conducting soil analysis tests in order to determine whether or not the soil has the proper temperature and moisture to support life.

Lancer will also take thermal and high quality photographs of Venus's surface.

Figure of Proposed Payload

Number of CEA Visitors and a Histogram of the age demographics of those Visitors
77. 14-18
CEA(s) Description
Members include: Caleb Christensen, Nick Benson, Hashon Bellmon, and Hanna Telgenhof

A CEA is an event that is devolved, with the guidance of the teacher, on your own terms and time with involvement from the local community. CEAs must have visitors. It relates to the Venus mission and/or your payload concept.You can have multiple CEAs during the semester; however, each CEA must be AT LEAST 30 minutes in length. At the conclusion of each CEA you must distribute and collect the completed CEA Visitor Surveys for verification of your attendance. You need to dress for the occasion of the CEA event. the event will be on March 20, 2014 at 7pm.

CEA(s) Pictures

UAHuntsville Logo
Community content is available under
CC-BY-SA
unless otherwise noted.